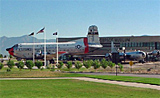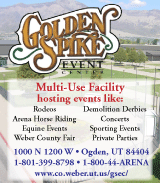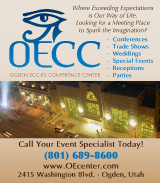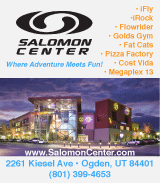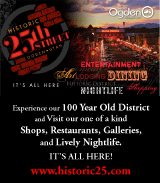 Best Western Plus
High Country Inn
1335 West 1200 South
Ogden, UT 84404
(801) 394-9474


• Cable TV CNN, ESPN, HBO
• Outdoor Pool / Whirlpool
• Free High Speed Internet
• Banquet facilities
• Fitness Facilities

Comfort Inn
Farr West
1776 West 2550 North
Ogden, UT 84404
(801) 737-5660

• Cable TV CNN, ESPN, HBO
• Indoor Pool / Whirlpool
• Free High Speed Internet
• Free Hot Breakfast
• Fitness Facilities

Hilton Garden Inn
2271 S. Washington Blvd
Ogden, UT 84401
(801) 399-2000

• Free Wi-Fi
• Indoor Pool / Whirlpool
• Meeting Space
• Busness Center
• Fitness Center

Comfort Suites
2250 South 1200 West
Ogden, UT 84401
(801) 621-2545


• Cable/Satelite TV
• Free Full Breakfast
• Free High Speed Internet
• Busness Center
• Fitness Facilities

Courtyard by Marriott
247 24th Street
Ogden, Utah
(888) 236-2427



• Indoor Pool & Hot Tub
• Fitness Center
• Free Wireless Internet
• On-site Restaurant
• Meeting Rooms
Hearth on 25th
195 Historic 25th St.
(Suite 6 - 2nd Floor)
Ogden, Utah 84401
(801) 399-0088

Restaurant - Lounge - Pantry
Offering scratch seasonal dishes, with focus on live fire cooking, our hearth is the "heart" of our kitchen.
​Mon-Thur 12pm-9pm
Fri - Sat 12pm-10pm


Prairie Schooner
445 Park Blvd.
Ogden, UT 84401
(801) 392-2712

Dine in a covered wagon next to an open prairie fire while enjoying our delicious hand cut steaks, fresh seafood, and signature desserts.

Jeremiah's Restaurant
1307 West 1200 South
Ogden, UT 84404
(801) 394-3273

Mon. - Sat. 6am to 10pm,
Sun. 7am to 9pm
Just East of I-15 off the
12th Street Exit in Ogden.
Wedding Garden


Gray Cliff Lodge
508 Ogden Canyon
Ogden, UT 84401
(801) 392-6775

• Sunday Brunch
• Wedding Luncheons and Dinners
• Banquet Rooms
• Chicken, Beef, Lamb, and Seafood

Rovalis Ristorante Italiano
174 25th Street
Ogden, UT 84401
(801) 394-1070

• Homemade Recipes
• Classic Italian Dishes
• Pizza
• Appetizers & Speciality Drinks
• Bakery
• Live Entertainment

Spotlight
Page
Newgate Mall
36th St. & Wall Ave.
Ogden, Utah 84405
(801) 621-1161
Aéropostale, Bath & Body Works, Buckle, Chinese Gourmet Express, Burlington, Claire's, Dillard's, Eddie Bauer, Foot Locker, GNC, Sears, Victoria's Secret, Zumiez....
Smith and Edwards
3936 N. HWY 126
Ogden, UT 84404
(801) 731-1120
Since 1947, Smith and Edwards has been one of Utah's unique destination retail experiences. Three generations strong with family tradition, the 171,000 square foot store
Planet Rainbow &
Rainbow Gardens
1851 Valley Drive
Ogden UT 84401
(801) 621-1606
Over 28,000 square feet of sheer shopping bliss of local goodies and handmade treasures. Planet Rainbow, the State's largest collection of Utah Books, Regional Souvenirs, and Gifts. It is a delightful destination for local visitors and out-of-town guests alike.
Ogden Junction
Washington and Kiesel
ogdenjunction.com
Blue Lemon Restaurant, Grandview Reception Center, Recreation Outlet, and Deseret Book

Historic 25th Street
Ogden, UT 84401
www.historic25.com

Experience our 100 year old district where the independent spirit of old has not changed. Visit our one of a kind shops, restaurants, galleries, lively nightlife, and annual events.

Historic Union Station
2501 Wall Avenue
Ogden, UT
(801) 393-9890

Two galleries, four museums, one historic train station. Utah State Railroad Museum, John M. Browning Firearms Museum, Browning-Kimball Classic Car Museum, and Utah State Cowboy and Western Heritage Museum.

Hill Aerospace Museum
I-15 Exit #338
Ogden, UT
(801) 777-6818

The Museum exhibits more than 90 military aircraft, missiles, and aerospace vehicles. Their collection also includes a wide variety of ordnance and munitions, an assortment of aerospace ground equipment, military vehicles, uniforms, and thousands of historical artifacts.

Eccles Dinosaur Park
1544 E Park Blvd
Ogden, UT
(801) 393-3466
From Interstate 15 take Exit 344 and drive approximately five miles east on 12th Street, following the signs to Dinosaur Park.

Ogden Nature Center
966 W 12th St
Ogden, UT
(801) 621-7595

Located in the heart of Ogden, you'll find a 152-acre nature preserve and education center open to the public year-round. Visitors enjoy 1.5 miles of walking trails, picnic areas, tree houses, birds and two of Utah's greenest buildings.

Fort Buenaventura
2450 A Avenue
Ogden, UT 84401
(801) 399-8099

Located near the Weber River, the fort symbolizes a period of western history. Facilities include picnic areas, a canoeing pond, and replica fort. Annual events include an Easter Renedezvous, Movies, Music Festivals, Turkey Shoot, Hurt in the Dirt, and Foam Fest.

FatCats
2261 Kiesel Ave.
Ogden, UT 84401
(801) 627-4FUN


Bowling, Glow Golf, Billiards,
Bumper Cars, Arcade, Food,
Bowling Leagues



iFLY Utah
iRock Utah
2261 Kiesel Ave.
Ogden, UT 84401
(801) 528-5348

In an iFLY wind tunnel, you are able to fly your body in a safely controlled manner.
Rock Climbing at iRock features a variety of challenges. We have walls ranging in height from thirty to fifty-five feet.

Treehouse Museum
347 22nd Street
Ogden, UT 84401
(801) 394-9663

Treehouse Museum serves children and families by providing interactive, hands-on exhibits and programs focusing on family literacy, children's literature, the arts, and the humanities.

Peery's Eqyptian Theater
2415 Washington Blvd.
Ogden, UT 84401
(801) 689-8700

The warm color accents that are throughout the building create the impression of walking through Utah's grand desert landscape and the splendor of the mighty Egypt of ancient times.

Ogden Raptors Baseball
2330 Lincoln Ave.
Ogden, UT 84401
(801) 393-2450

Minor League baseball team. Affiliated with the LA Dodgers. Games run June through September at Lindquist Field.